Home> Needlework> Flowers made of polymer clay: master classes, photo examples p>
In the 1930s, plush material was invented in Germany to create extraordinary items - polymer clay. First, with the help of her dolls were made, but in the 60s she quickly gained popularity, after which they began to use clay to create various sculptures and compositions. p>
Now from this material create original jewelry, souvenirs, flowers. Wedding bouquets are perfectly obtained from polymer clay; therefore, clay has become an indispensable material for wedding celebrations. p>
You can also learn how to make gorgeous crafts from this wonderful material. In order to create your first masterpiece, you will only need to familiarize yourself with the material below. p>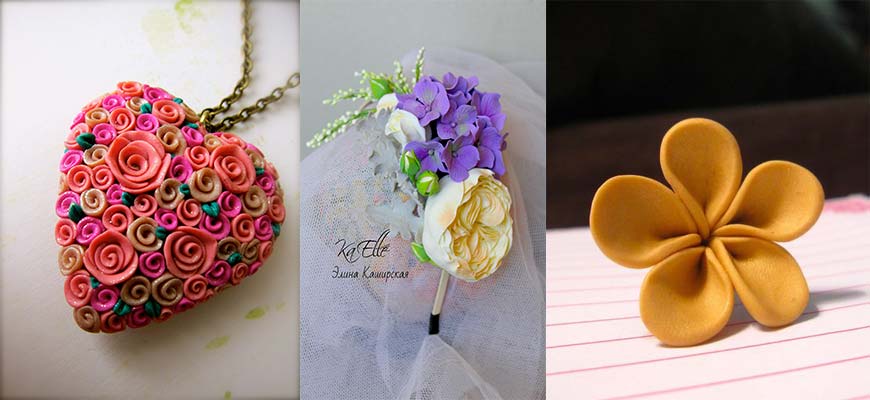 p> Tools for modeling of polymer clay Surface for work. You can take a flat and perfectly flat board of glass or plastic, tile or ceramics. Knife. Suitable as a stationery, and construction. Spare blades should be on hand. Acrylic rolling pin is very convenient when rolling clay. A syringe and various nozzles with which you can make a variety of strips, floral elements. Forms for cutting shapes (cutters). Stacks. Polymer clay. Varnish for polymers. Brushes of different sizes. Toothpicks. Napkins. Items of accessories.
Before starting work, the clay should be well kneaded. p>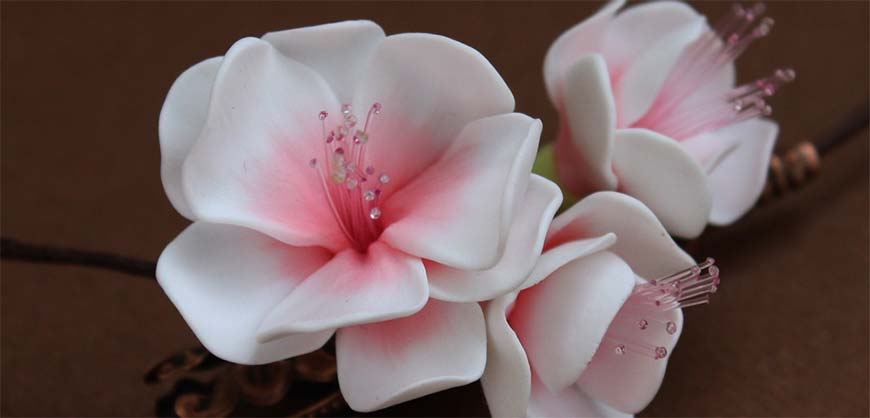 p> Useful tips when working with clay First, wash your hands well, as the clay perfectly absorbs various contaminants. Keep the work area clean too. Gather your hair or put a kerchief on your head. Apply talc to the clay - this way you will prevent debris from sticking to it. Correctly calculate the amount of clay, because the colored clay has a short storage line. When the clay dries, do not lose heart, but simply add the usual hand cream to the material, but not much. Be careful with clay products - they are quite fragile. Pack with the material save only in closed form. To make the clay serve you after a long time, put a wet cloth there.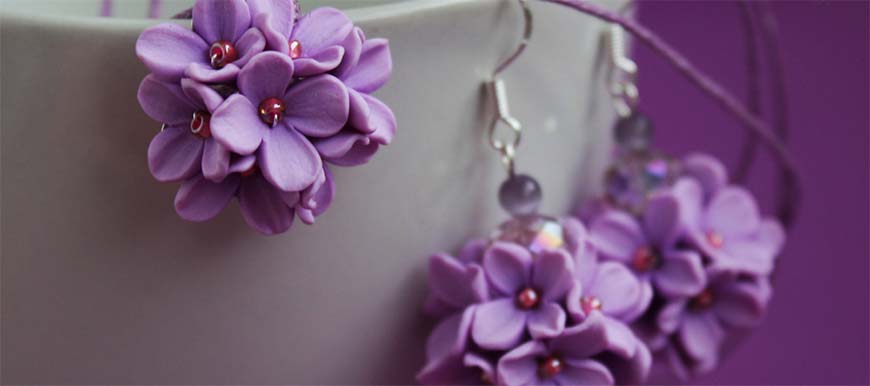 p> Polymer clay at home
If you do not have the opportunity to purchase ready-made clay in the store, then below we give the recipe for homemade material of this material. p>
You will need: oil for children, flour (1 teaspoon), plain white glue (1 teaspoon), corn starch (1 teaspoon). p>

p>
Combine starch, glue, add flour. Stir until the mixture looks like clay. Then put five or six drops of oil in order to prevent the clay from sticking to the hands. To make the clay colored, take some of this material in your hand, put some acrylic paint on it, and mash it in your hand. p>

p> Polymer clay flowers Calla
For those who are just starting to work with polymer clay, it will be easiest to make callas. This is a very simple hack and is done in minutes. And if you decorate the resulting flower with beads and put a special hook into them, you get chic earrings. p>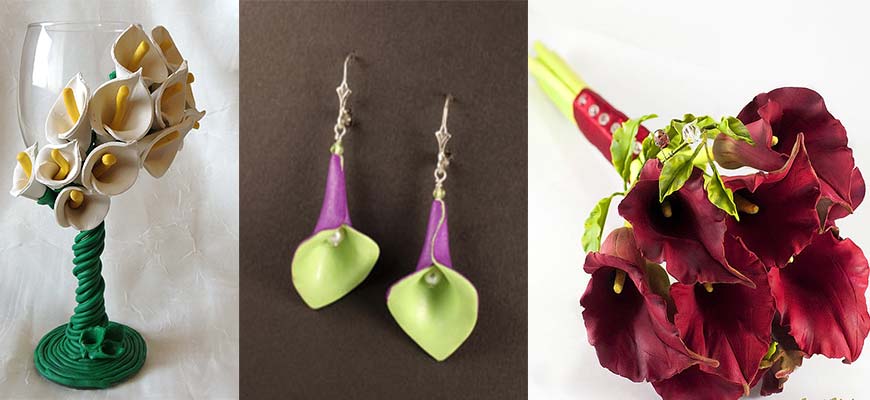 p>
Take a pair of clay colors, a toothpick, a stationery knife, rubber gloves and beads. p>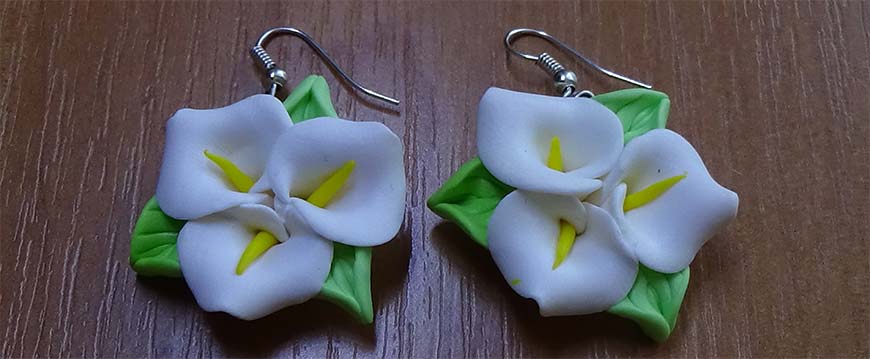 p>
From the clay pieces make a sausage, then roll them one around the other. The resulting product roll into a ball. Do these manipulations, until you get a marble color. After that, using a knife, cut the ball into two equal parts. p>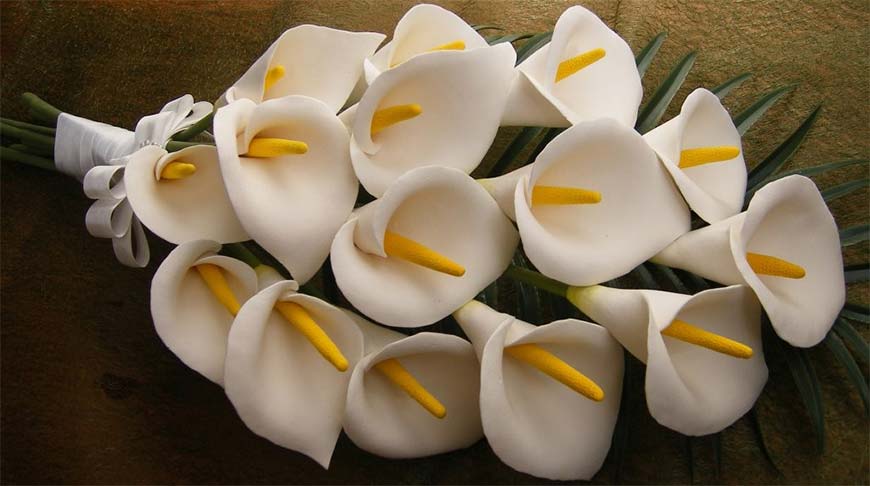 p>
Make a rounded flat plate and slightly stretch its edge, which pin with your fingers. Carefully fold the opposite edge (like a paper bag). p>
Straighten edges, correct. You should have a drop down bud. Make small holes with a toothpick and insert earrings and beads into the flower. p>
p> lily
Lily is made harder than calla, but the result is worth it! p>
Take the clay of the color you like, a bottle or rolling pin, an awl or a large needle, a knife, paint (preferably watercolor), brushes, paper clips. p>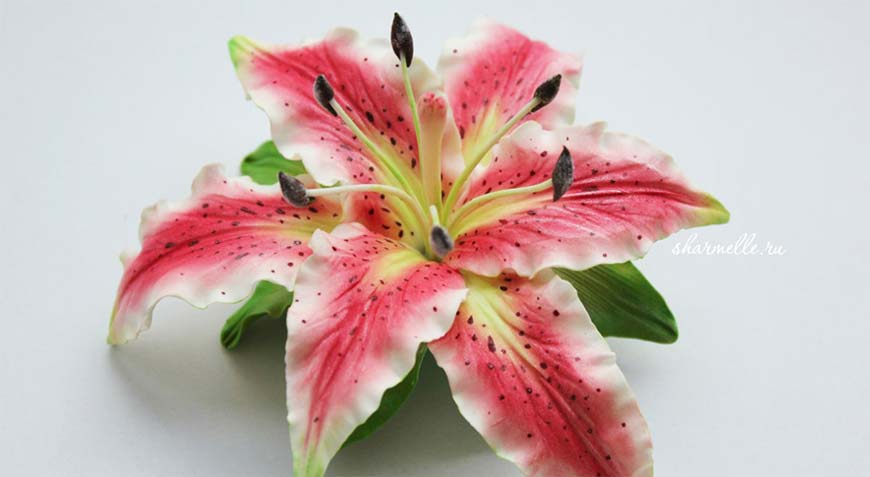 p>
Put gloves on your hands, take a piece of clay, roll out thinly, mark the petals. Draw the borders of the petals with a needle. You should have three large and three small petals. Small petals will be in the center of the flower. p>
Cut the resulting petals with a knife or scissors. On the petals draw streaks - it looks very beautiful. p>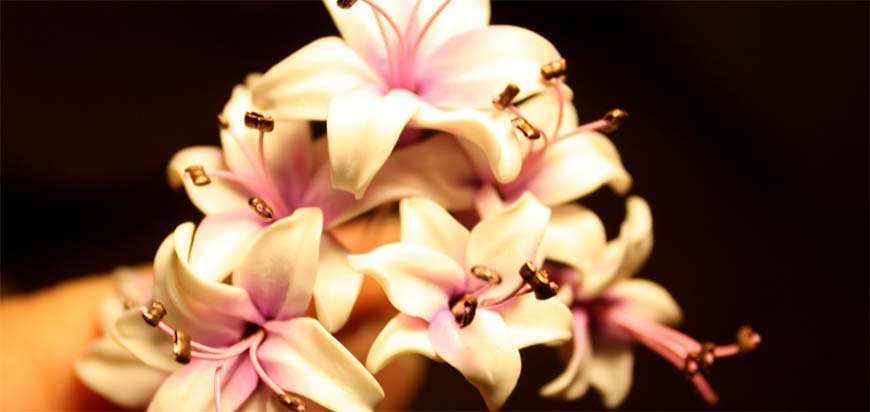 p>
Allow the resulting components to dry, and engage yourself in the manufacture of the center of the flower, namely the pistil and stamens. Roll the clay and cut into thin strips. Make the pestle strip wider and apply a brown color on its tip. Needle twist the edges of the petals, which are smaller. Straighten the paper clip and fix the flower on it, starting with the pistil and stamens. Next, symmetrically attach the petals. p>

p> Rose
Roses are considered the most popular flowers, even if they are made of polymer clay. To make this beauty, take polymer clay, put gloves on your hands. p>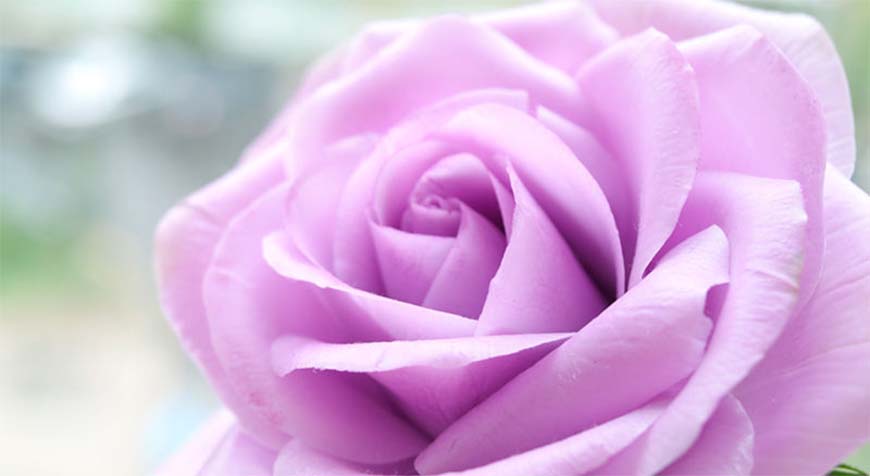 p>
Make a sausage from a piece of clay, cut it into pieces, from which make balls of different diameters. Nine balls will be enough if the rose is small. p>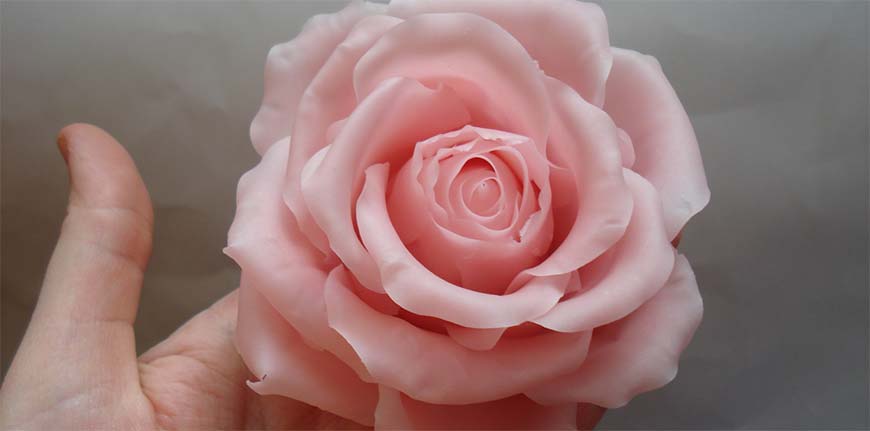 p>
From balls dazzle oval petals. To do this, put the ball on the left palm on which we press with the thumb of the right hand. Form a petal. Make the edges of the petal thinner, and the base - denser. So do with all the balls. After that, we collect a rose. Make the middle of the flower - twist one petal into a roll. Next, attach petals to the center from smaller to larger. Make sure that each petal covers the middle of the previous one. p>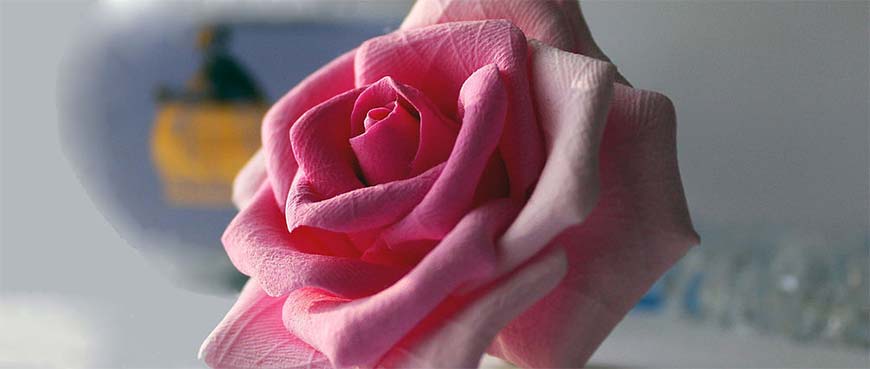 p>
Rose done. It is elegantly suitable for decorating various accessories. It will look great as a magnet on the fridge. p>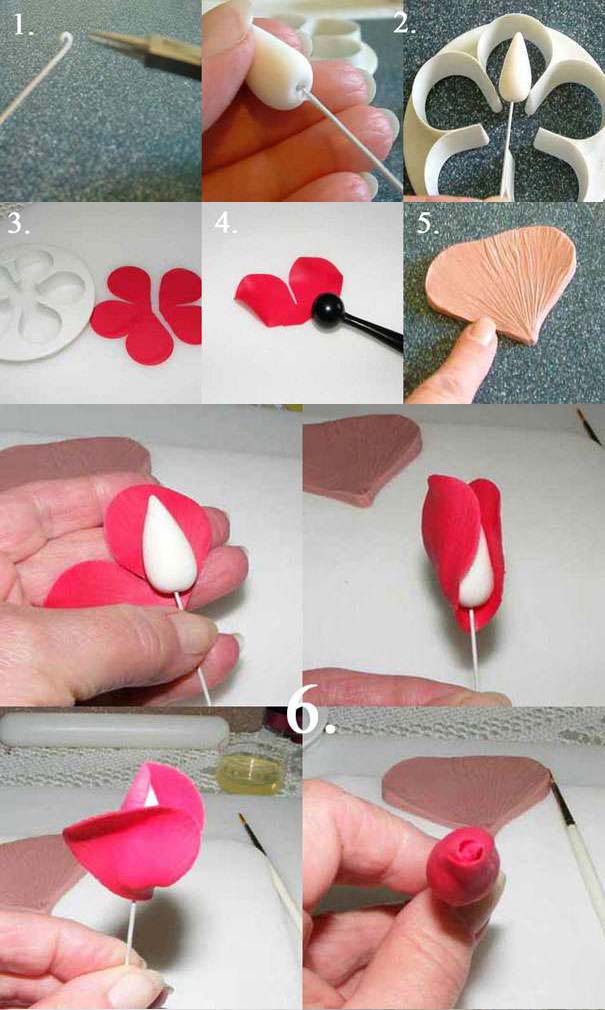 p>

p> Orchid
After you have practiced making rose and callas, you can start making an exquisite orchid flower. To work, take the clay, flat board, gloves, rolling pin, wire, a special form for cutting, knives, brushes, paints, mold, stick with a rounded tip. p>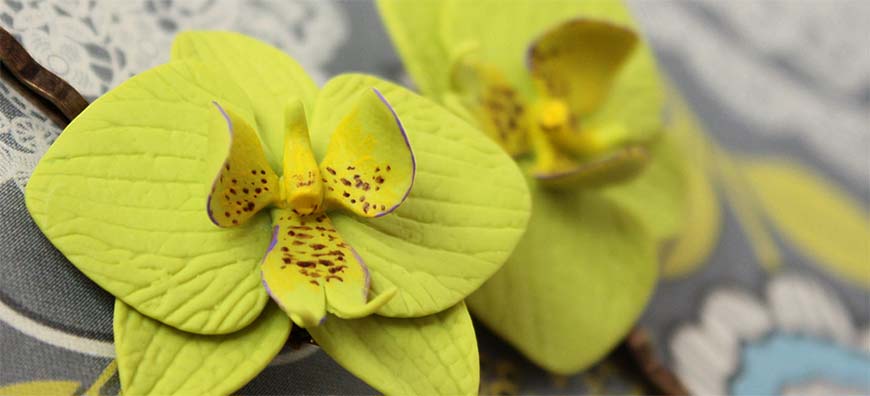 p>
Using a stick, paint a piece of clay, and in the middle make a small ledge. Shape a cross cut - this will be the middle of the flower. If there is no form, draw a core. The resulting item is taken in hand and bend its upper tip inward. With the help of a stick, we bend the other blanks in the same way. p>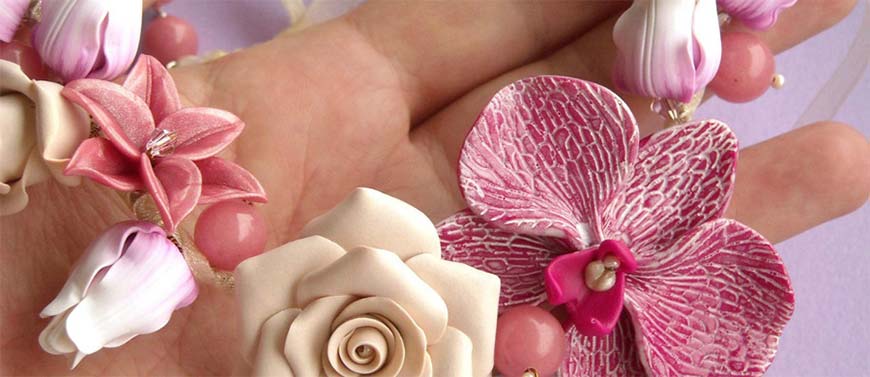 p>
We take the wire, bend it in the form of a right angle. On the tip of the wire we dress the middle of the flower, smeared with glue. Mold the middle part of a flower sponge from a small clay piece. To do this, make a grain out of it and cut it a little with a knife. Sit on a wire in the middle of the sponge. Color the flower lip. p>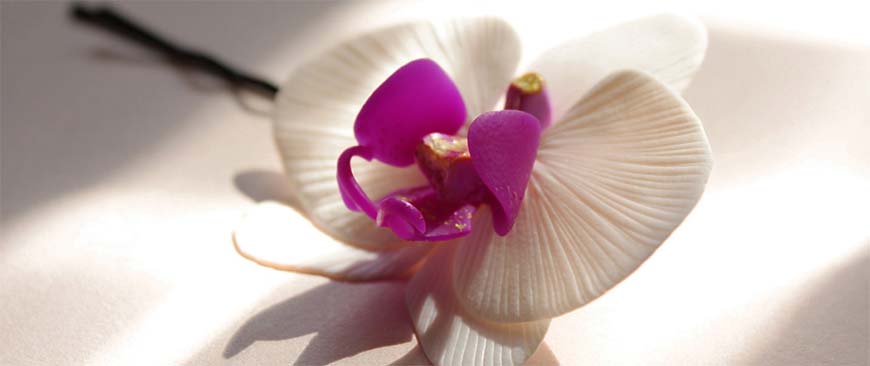 p>
After that we make petals. Roll out the painted clay piece, which is with a ledge. We put the workpiece on the mold, cut off the excess. Fasten the wire to the base. In the same way we do five more petals. Draw dots on all the petals. Take all the petals, lip, connect. Got a chic orchid! p>

p>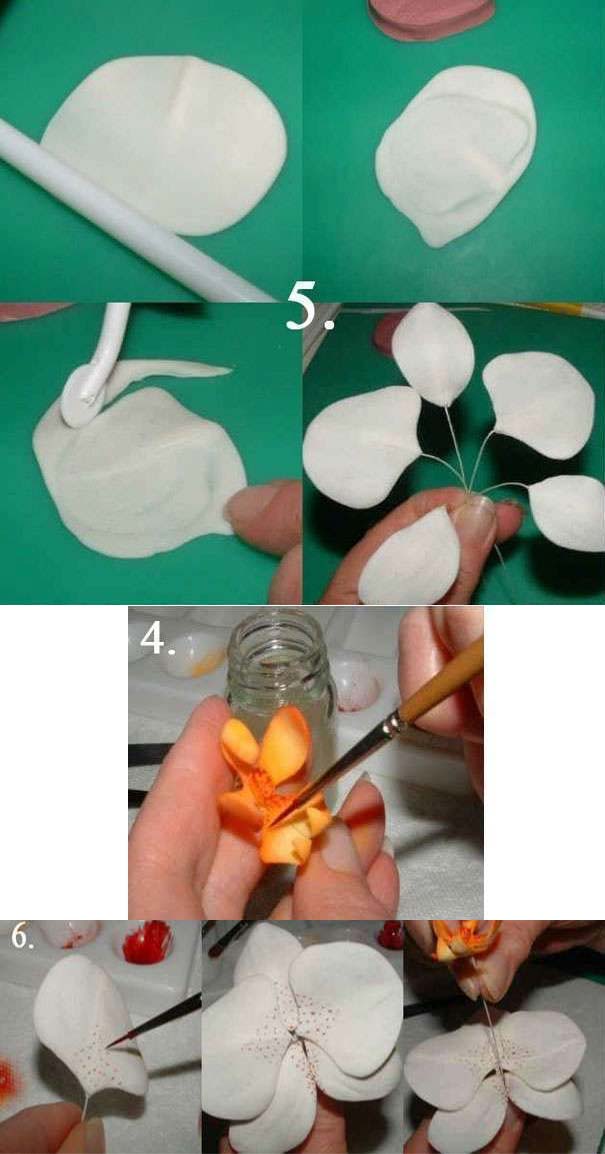 p>
Crafts made of polymer clay are gaining popularity with each passing day, a type of ceramic floristics is developing. They sell well and are highly valued. p>
It should be noted that the modeling of this type of material is in demand not only among needlewomen. Children are more and more interested in this type of art. This activity is very exciting, with the help of his child will actively develop and relax. Children with great pleasure will help you to make crafts and jewelry. p>
Learn to create masterpieces of polymer clay, and you will discover a new world of art, with which you can create chic decorations and even have an extra income from your work! p> 117 photo color samples
Recommend reading p>
Related news:
What a surprise can be done on the day
How hard do external drive
How to make Christmas decorations
How to make tempered iron in ic2
How to make rtv on the server